We Install and Repair Home Ductwork
Have you looked at the ductwork (metal vents) leading out of your heater in your garage?  Are they insulated? Do they have duct tape falling off of them? Do you see any visible gaps between the fittings?
Now think about the rest of your home. Have you inspected the ductwork in your attic? Right! And certainly you can't even see whats going on between the walls of your home. Ductwork is a hidden feature of your heating and cooling system yet it is often overlooked and worse neglected over the years.
The fact is nearly 60% of the home ductwork we inspect in San Diego has moderate to severe ductwork deficiencies.  This not only costs you money, but poses a high risk of spreading allergens and causing fires.
Leaking Money Out Your Ducts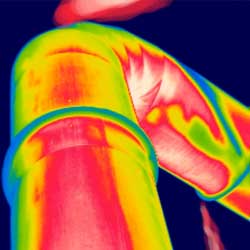 Take a look at this small portion of home ductwork as seen through a thermo imagine machine. The red color depicts warm air, the white color depicts the very hot air, blue is cool air.
This particular piece of ductwork does not have any insulation around it. Heat is escaping from the top elbow and from the bottom right seam. On Avg. these types of heating or cooling leaks results in 30% of all home energy losses.
Now look at the hot white areas. This is very hot air building up in some areas and even escaping out into your home in others. Inside the ductwork an elbow created at too sharp of an angle too close to the heater could produce high temperatures. If this surface is too close to your walls or other objects you may have a fire danger. In the areas where heat is escaping from the ductwork, it is not as hot but still represents a serious fire risk as over time the areas this heat is hitting will become dry, brittle and very susceptible to catching fire.
We don't present this information to frighten you, but we do intend on demonstrating that your ductwork serves two very important purposes; reducing energy costs and preventing fire risks. Yet, very few homeowners have this part of there systems properly installed or maintained.
Repairing ductwork and even installing new ductwork is relatively inexpensive, fast to complete, and requires very little disruption in your home. It makes a lot of sense to have the best home ductwork possible.
Ductwork Installation or Repair Inspection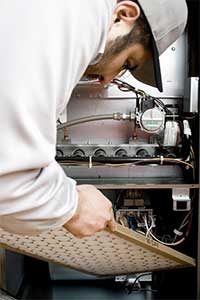 Johnson Air Systems will come out to inspect your home heating and or cooling systems for both energy efficiency and safety concerns.
Everything starts with your furnace filter. This is an item that every homeowner should be aware of and is changing it on an annual basis. With a new filter installed, dirt, dust and debris are prevented from entering and clogging your ductwork. High end filters can also help prevent these allergens from being blown throughout your home.
We will inspect your heating unit as well as the ductwork that leads out of it. We will then conduct a thorough examination of the ductwork that runs throughout your home including the checkpoints listed to your right.
Lastly we will present you with our findings, are recommendations to create a safe and efficient ductwork system and a price quote to conduct the installation or repairs.
Inspect readily accessible ducts for obvious air leaks
Inspect flue and venting
Check temperature rise across system for proper fan speed
Check air flow across system
Check CO2 output at vent end points
Air Filtration/Purification
Media Filters –filters air from allergens –  Honeywell, Lennox,
Electronic Air Cleaners –   TRANE, Honeywell,
UV Lights –  APCO, Air Scrubber Plus/ActivTek http://airscrubberplus.com/#intro
You Deserve Free Estimates and Prices Quotes
We provide free estimates for all new heating and cooling system installations. If you need us to repair a faulty heating, cooling or ductwork system we charge a $40 service fee to evaluate your problem. However, if you choose to use our service for the repair we will deduct this evaluation fee from your overall bill.
Finally a company and people you can trust. After a few poor visits from other companies Paul from Johnson Air came to evaluate our heating system. He explained everything without a sales pitch, just here is whats safe and whats needed. He installed a system that was affordable and very efficient. Highly Recommend Johnson Air.


J Nordstrom
i had a nightmare situation with a company called TL Services. I called Paul, he came out and with in a few minutes found the issue. it was a $10.00 breaker, not a $325.00 repair that TL Services quoted. This is the company to go with.
Anthony K
A few years ago Paul Johnson Installed my Fujitsu Air/Heating unit in our masterbedroom by his suggestion. The unit is fantastic and is also an air filter unit as well. The installation went really well and I couldnt have been happier.
Since it's installation Paul has conducted an annual cleaning/ inspection of the unit. He is the owner and service provider and just a great and honest guy. I look forward to his annual visit and highly recommend his services and products.
Tony C
I don't like strangers coming to my house! I took the recommendation of a friend to speak with Johnson Air when looking to install an air conditioning system (It was HOT this year). Paul Johnson came out and I could not have been more pleased with the results. Pleasant, honest, and a clean cut Marine who owns Johnson Air.. Nice air conditioning system is now awaiting the summer!
Jennifer R